By: Jon Watkins
Source: FIPP
Many brands are seeing an opportunity to innovate by adding a digital element to their print offering. Here, we explore some examples.
Audi drives innovation in print ad
Departures, a magazine published by Meredith Corporation exclusively for American Express Platinum Card Members, revealed a new print ad that animated organic light-emitting diode (OLED) taillights on the Audi A8 in the ad when the page was opened for the first time or triggered by a remote control replica key fob.
The print and digital mix was the first print ad execution of its kind for Departures. Readers were provided with a replica Audi key fob that, when pressed, animated the taillights when the page was opened. The exclusive print advertisement was distributed to 25,000 targeted Departures readers.
"The ad is more than a stunning visual; it's a limited-edition experience that will intrigue readers and Audi fans. We wanted to create something so impactful that it would naturally get those readers' attention."
Empire magazine gets movie-goers talking
Bauer Media's Empire magazine pushed the boundaries of print publishing last year by producing an innovative limited-edition talking cover.
The cover was created in partnership with Twentieth Century Fox to coincide with the launch of movie Deadpool 2.
A concealed speaker inside the publication is activated by a button which, when pressed and spoken to, offers one of 14 recorded replies to questions from the enigmatic Deadpool himself.
The cover image featured was a world exclusive. Inside the pages, readers could look forward to an exclusive filmmaking feature by Chris Hewitt, including interviews with stars Ryan Reynolds and Josh Brolin, director David Leitch, writers/producers Rhett Reese and Paul Wernick and producer Simon Kinberg.
The exclusive subscriber pre-sale opened on the same day the film hit screens, with general pre-sale the following day. The magazine was then made available in stores on the day after that, priced at £12.99 (US$17.65).
New move from Old Spice
Aftershave brand Old Spice has a reputation for charming, and unconventional ads. Last year, it took the company's reputation to a new level: they provided readers with a stunning, bright red scented paper jacket that could be removed from the magazine and literally worn.
The fullsized disposable paper blazer was scented with Old Spice Captain and inserted into a pocket in the ad.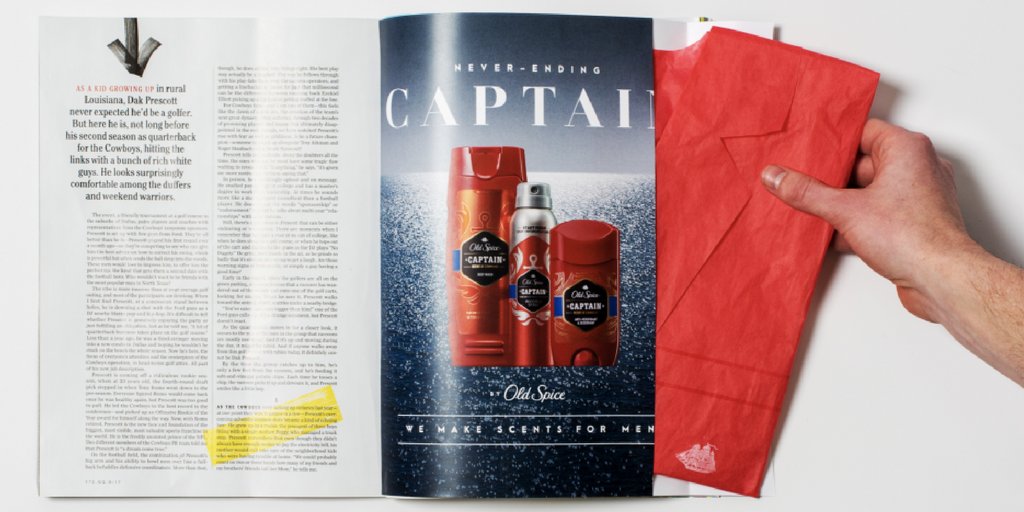 Taking the beach to the people
The Dominican Republic gets 5.5 million tourists a year, but almost all of them go to the same three beaches – Punta Cana, Bávaro and La Romana. The country wanted to attract visitors to the 197 other stunning beaches it has and to the bustling communities around those beaches to promote economic development.
Remarkably, each of these 200 beaches have their own signature sand – different in colour and texture. And, with millions
of tourists at the three main beaches, the other beaches offer unspoiled, quiet, peaceful sand and blue water.
Over a six-month period, the agency McCann Santo Domingo collected sand and water from each beach and created a geo-located print catalogue which covered every beach – each with its unique colour signature of sand and water included. Potential visitors could now see and feel the rich variety of beach experiences available to them.
Printed catalogues were distributed around the world to Dominican consulates and tourism fair organisers while a virtual version was put together where readers could request a hard copy of the catalogue with all the sand samples.